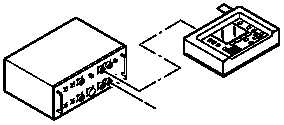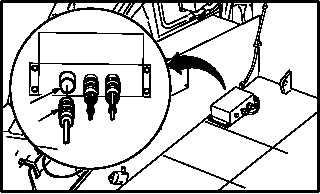 TM 1-1520-238-23
(1-331 blank)/1-332
Change 8
1.110A. TAIL ROTOR BALANCE AVA KIT INSTALLATION
1.110A.1.

Description
This task covers:
Equipment Installation. Optical RPM Sensor Installation. Accelerometer Installation.
1.110A.2. 

Initial

Setup
Tools:
Aircraft mechanic's tool kit (item 376, App H)
Aviation vibration analysis test set (item 354B, App H)
Blade balancing kit (item 28, App H)
Maintenance platform (item 209, App H)
30 - 200 inch-pound 1/4-inch drive click type torque
wrench (item 436, App H)
Materials/Parts:
Screw, machine NAS603-10P
Personnel Required:
67R
Attack Helicopter Repairer
67R3F
Attack Helicopter Repairer/Technical
Inspector
References:
TM 1-1520-238-T
Equipment Conditions:
Ref
Condition
1.57
Helicopter safed
2.2
Access fairing L540 removed
1.110A.3. 

Equipment

Installation
a. 

Enter CPG station

(para 1.56)

. Observe all
safety precautions.
b. 

Install Aviation Vibration Analysis equipment
(AVA).
(1) Remove AVA tail rotor balancing equipment
from transport case. Check for possible dam-
aged equipment and frayed cables.
(2) Place Data Acquisition Unit (DAU) on out-
board side of copilot's armor plate oriented
such that the

ON/OFF

switch is forward with
connectors facing up and secure DAU using
canvas straps and D-rings.
(3) Attach AH-64-to-DAU cable (29304600) con-
nector (1) to signal processing unit (SPU) re-
ceptacle (2) located beneath and to the right
of copilot's seat.
(4) Route AH64-to-DAU cable behind copilot's
seat and around to the DAU.
GO TO NEXT PAGE
CREDIT CARD
MEMORY
+28 VDC (TO SIGNAL
PROCESSOR UNIT
M04-5210-1
DAU
CADU
J1
J2
J3
M04-5210-2
1
2